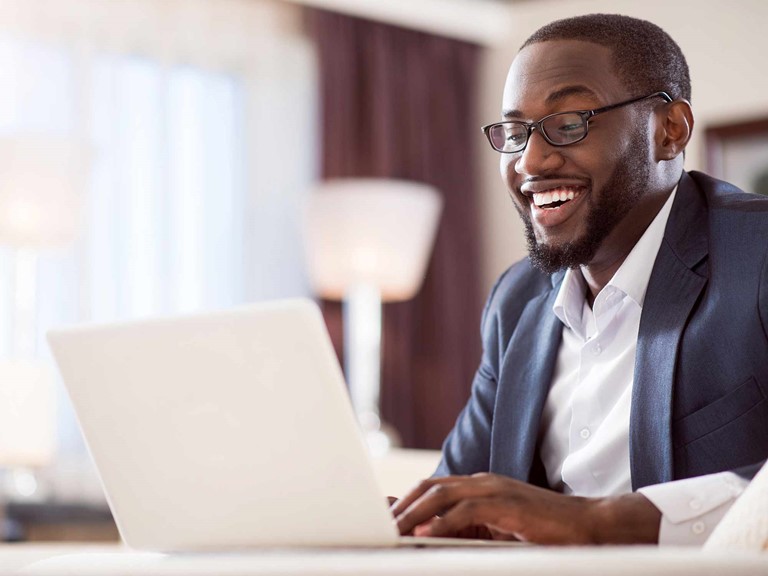 Corporate Internet Banking
With our Corporate Internet Banking (CIB) service you can carry out secure internet banking transactions and e-payments of all kinds, monitor trade transactions and administer payroll.
Consider it your financial command centre from where you can make payments to customers with accounts anywhere in the world, confirm cheques, stop cheques, issue drafts and pay Import Duty amongst other functions.
Funds Transfer within and outside Nigeria: Transfer money from your corporate account to any beneficiary's account worldwide.
Payroll Administration: Pay staff salaries electronically.
Accounts Activities Monitoring/Reporting: View transaction logs, daily activities, download transactions.
Track Trade Finance Transactions: Monitor status of Letters of Credit, Payments, Confirmation and Establishments, Form M and Bills for Collection.
Multi-Bank Account Viewing/Reporting.
Import Duty Payment: Make import duty payment and print receipt at your convenience.
Online Cheque confirmation.
Worldwide notification via Email and SMS.
Real Time Viewing.
Direct Integration: Capable of complete integration with accounting systems for even less human input.
Advanced Document Management – Allows upload of all manner of documents such that they may be viewed at the click of a button.
Draft Issuance: Initiate draft requests from your office.
Audit Trail: Complete monitoring of all activities on the platform.
Multi-Bank Account Viewing/Reporting.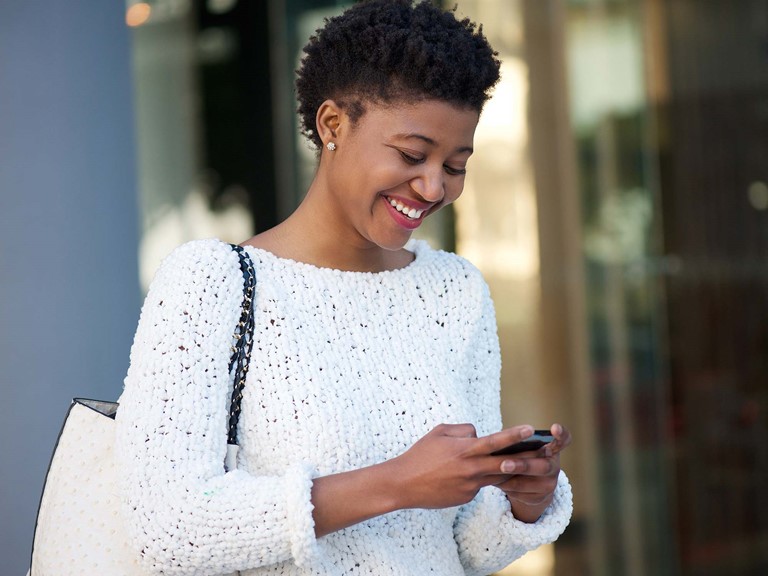 Zenith Bank Mobile App
Get our mobile app for banking on the go
A quick download of our mobile banking app can transform your smartphone into a powerful banking tool. Banking on the go just got even easier with Zenith Bank's mobile banking app. Get access to your accounts 24 hours a day from wherever you are, transfer funds, pay bills and experience the freedom of banking on your terms.
FX Transfers
QR Payments
Airtime & Data Bundle Purchase
Target Savings i.e. "SaveForMe"
Scheduled payments
Self-service options i.e. PIN change, Block Card
Transfer Limit control
BVN Display & Account Display customization
Customizable Shortcuts
Biometric Sign on for Android
Personal Information Update

24/7 Livechat with our contact center ZenithDirect

Log POS, Web or ATM dispense errors.
Generate, share and save transaction receipts.
View Bill Payments history.
View transfer beneficiaries' personal details.
View transaction mini-statement.
View all your accounts on your phone: Current, Savings, Domiciliary, Fixed Deposit etc.
App is locked to device preventing unauthorized use.
Validates NUBAN account numbers for error-free transfers.
Protected by two-factor authentication: Password and mobile PIN.
Pay bills directly from your bank account.
Users can register on the app by taking the following steps:  
Click on Register.
Enter your account number.
Select one of the registration options: 
   i) Hardware token (PIN+Token)  
   ii) Debit card (last six digit of ATM PAN) 
  iii) One time password (OTP) - to be sent to your registered phone number.
Create a password (password is numeric and 6 digits, this will be used to log-in to the app).
Next, create a MOBILE PIN; Numeric and 4 digits (which is an alternate means for consummating transactions).
Once successful, the LOGIN PAGE will appear, enter your account number and your password created during registration to start using the service.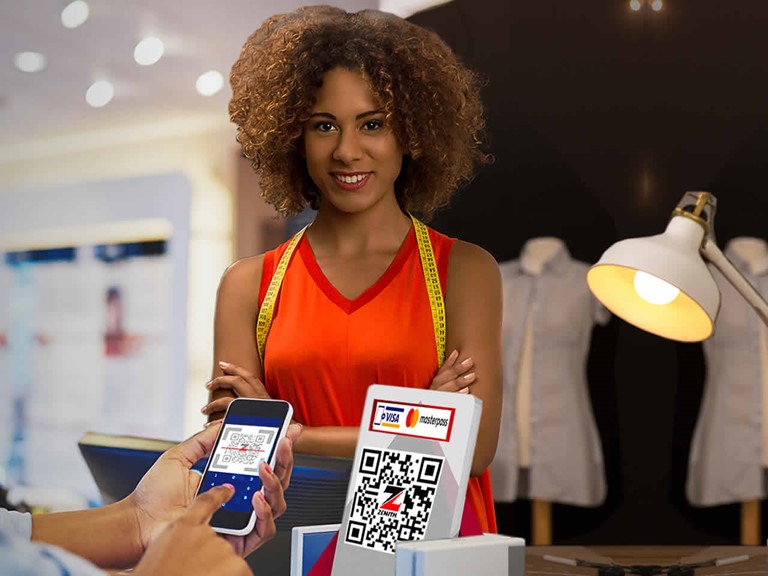 Scan To Pay
Scan To Pay is a fast, simple and secure way of making payments at merchant's outlets by simply scanning a QR code using a smart phone. QR is an acronym for Quick Response code. It is similar to a barcode displayed on items or goods found in stores.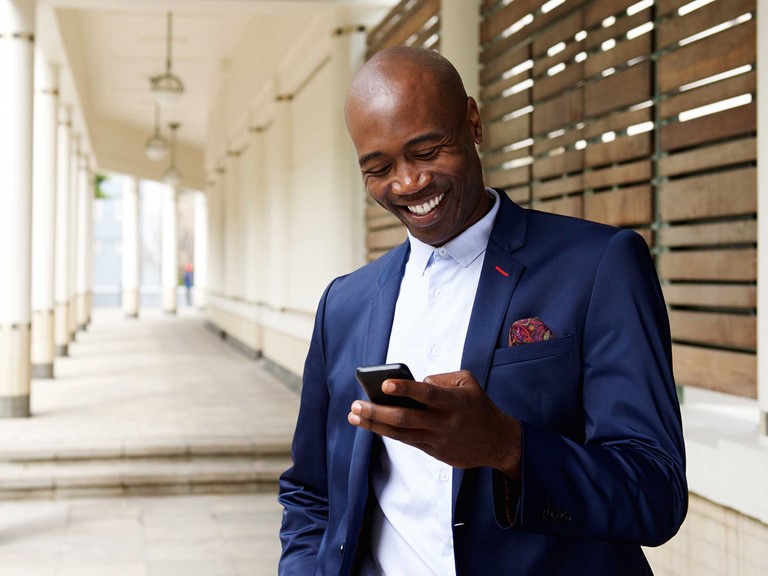 *966# EazyBanking
*966# USSD Banking is a convenient, fast, and secure way to access your bank account and perform banking transactions via your non-smartphone without internet connectivity. This service is available to all individual account holders with any feature phones that run on the GSM platform.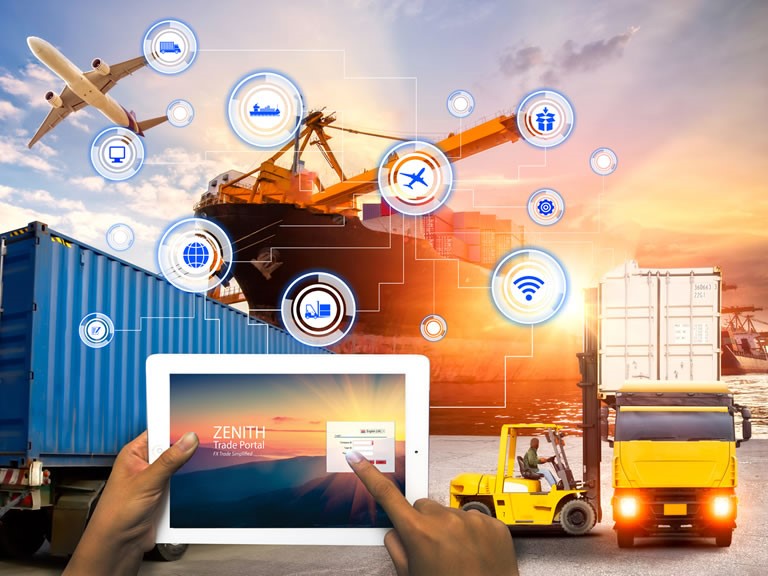 Zenith Trade Portal
In the world of technological advancement, international trade transactions need to be on the go – online real time. The Zenith Trade Portal, a Corporate Banking Work stream is an innovation from Zenith Bank, packaged to help corporates and individuals meet the global trade demands of the present day.
Letters of Credit
LC Amendment
Bills for Collection
Licenses / CBN Forms
Form A / Invisible
Export
Access to Transaction Telexes
News Feeds
Shipping Documents Tracking
Correspondence
Customized Reports
Direct Trade Data Between Corporates and Bank
Self-Initiation of Transactions
Form M Rate
General Enquiry
Notifications
Record Keeping
Accessibility
24 Hours Trade Platform