The Big War Against Cancer Campaign
In 2016, Zenith Bank invested over N1.2billion for the purchase of ten (10) mobile cancer diagnostic and treatment centres (MCC) – the first of its kind anywhere in the world. The health intervention initiative is in partnership with a non-profit organization – the Committee Encouraging Corporate Philanthropy (CECP). The MCC, nicknamed PinkCruise, is a clinic on wheels with state-of-the-art facilities for screening, follow-up and treatment of cancer. Some of the medical activities carried out on the PinkCruise include Mammography, Endoscopy, Colonoscopy, Colposcopy, Cryotherapy, Laboratory, Vaccination and Surgeries for pre-cancer/early stage cancer.
In 2017, the first four of the pilot set of Mobile Cancer Centres were delivered and handed over to the CECP. The pilot phase of the 'BIG WAR' Against Cancer in Nigeria campaign was scheduled to start in the four old Regions in Nigeria, that is, East (PH); Mid-West (Asaba); North (Abuja); and West (Lagos). The inaugural outreach started on Sunday, November 5, 2017 through Friday, November 10, 2017. The medical PinkCruise was deployed for the first time in Nigeria with a free cancer diagnosis, free eye and general screening and treatment in the town of Agbor, Ika South Local Government Area of Delta State. Some beneficiaries also came from the neighboring towns.
So far, at least 5000 men, women and children have been screened using the Zenith Bank sponsored medical PinkCruise. It is estimated that over 30,000 persons would have been screened by year end 2019.
In the coming year, the Mission PinkCruise is expected to kick off in Lagos on World Cancer Day (February 4, 2018). In continuation of the fight against Cancer, Mission PinkCruise will follow a year-long roster of health outreaches, covering all of Lagos State. To find out when the free medical mission will get to your domain between 2018 and 2019, the roster of activities is available online at www.pinkcruise.org. or https://www.zenithbank.com/lagos-state-pilot-programe-12-months-schedule-of-mission-pinkcruise.pdf.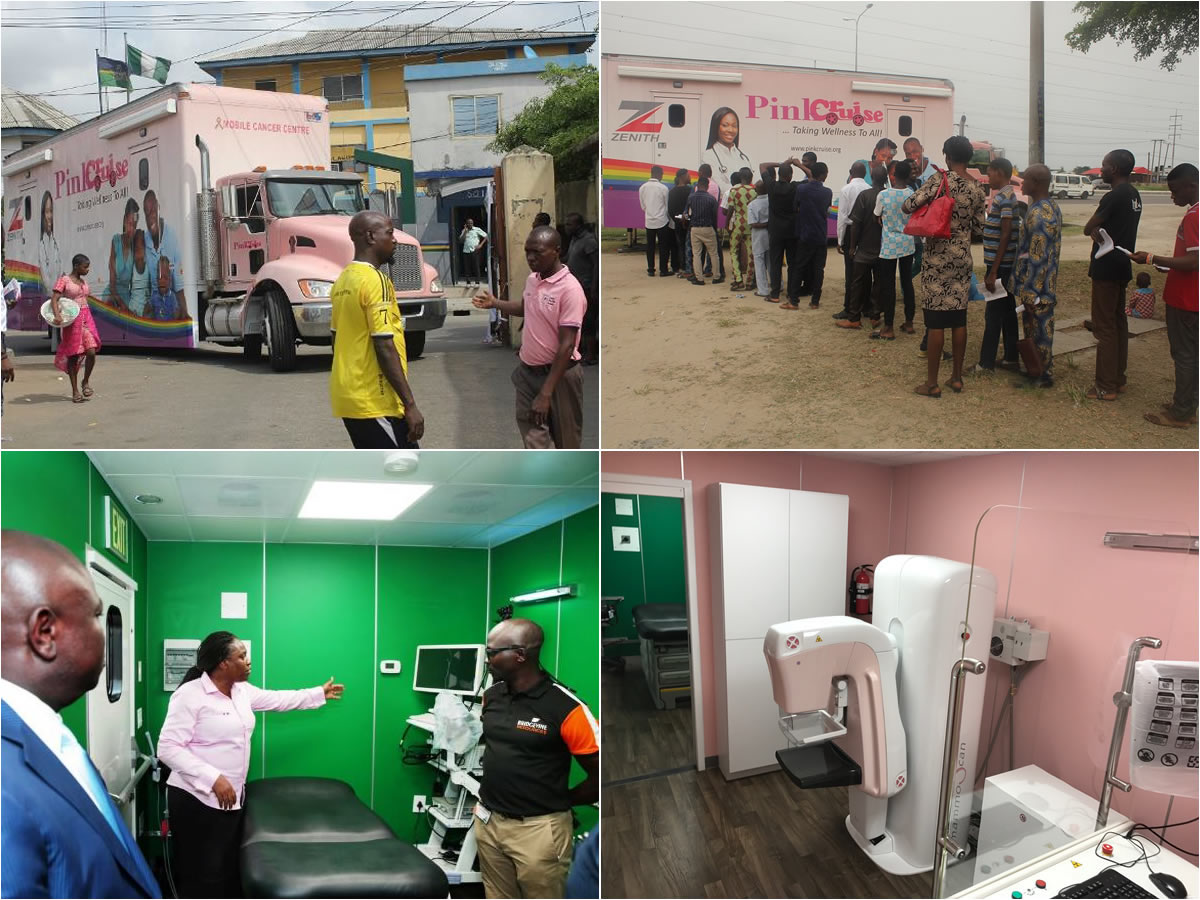 Contact details for the project: Mass Medical Mission House, 31 Bode Thomas Street, Surulere, Lagos, Nigeria || T: +234 (1) 291 6464 || Email: info@cecpng.org; or Corporate Sustainability & Responsibility Unit; Research & Economic Intelligence Group;  Zenith Bank Plc Head Office, Victoria Island, Lagos; Tel +234 (1) 278 1049, +234 (1) 278 1048, +234 704 000 0831; Email: sustainability@zenithbank.com; csr@zenithbank.com.
The War Against Cancer in Nigeria has begun. Together, we can win this war!