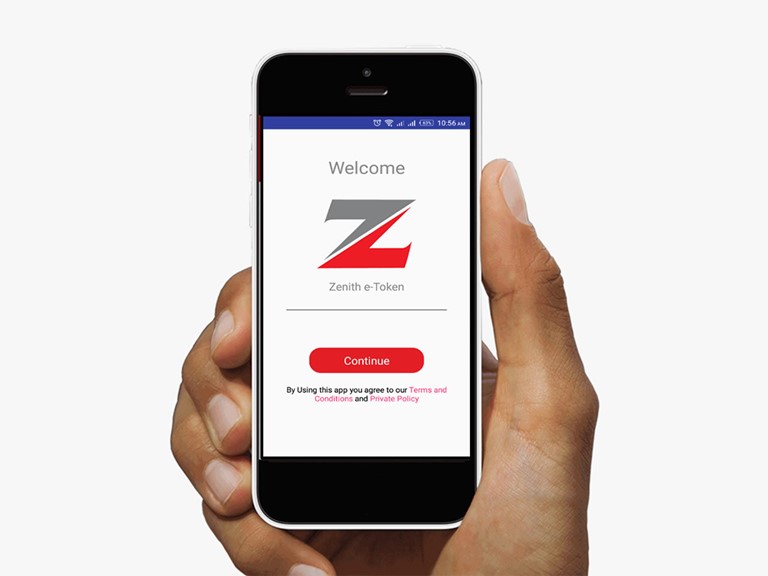 About the Zenith eToken App
ZENITH e-Token App is a mobile application that generates One Time Passwords (OTPs) used in the authentication of electronic transactions. A one-time password (OTP) is a series of characters that automatically authenticates the user for a single transaction or session. It is also an alternative to the Hardware Token.
Get Started
Activate and Start using the eToken App in Three (3) Simple Steps
Request for eToken App (eToken Activation Details) via Internet Banking or at any Branch Bank.
Via Internet Banking
Login to your Internet Banking profile, click on 'Service Request' and select 'eToken Request' 
On the eToken Request page, select "Yes", if you have previously activated the e-token app, otherwise select "No". 
Next, choose your preferred method of authentication "Hardware Token or Receive OTP via SMS".  Select "Hardware Token" if you have a hardware token device or "Receive OTP via SMS" to get a one-time password on your phone number registered with the bank. 
On successful completion of the authentication process, your activation details will be sent to you via SMS and email. To conclude (see step 2 below), simply download the eToken App and activate using the details sent to you.
 
Via Zenith Bank Branch
Walk into any branch bank and request for your eToken app activation details. 
To complete the activation process, create an eToken PIN.
Your eToken PIN will be combined with the token generated from the eToken app to validate all future transactions.
Login to Internet Banking, click on settings from the menu bar and select create online Banking PIN.
Frequently Asked Questions
We are available to help you with any of your banking needs. Do you have a question? We have got answers to some frequently asked questions about our products and services and much more.