Zenith Bank Splashes N24.6m On Women B'Ball League
Zenith Bank on Wednesday, October 24th, 2018 unveiled a N24.6m sponsorship package for the Women Basketball Premier League sponsored by the Bank.
 Speaking at the unveiling ceremony in Lagos, the General Manager/zonal head of the Ikeja branch of the financial institution, Akin Ogunranti, who represented the Group Managing Director, Peter Amangbo, said they were happy investing in women basketball and would continue to do so.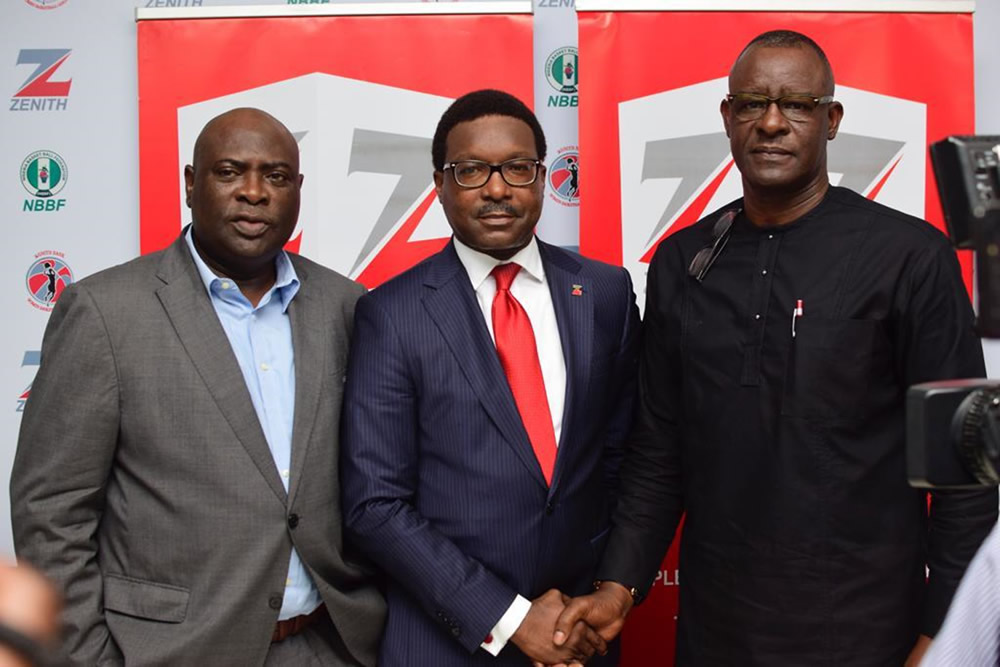 L-R : Col Sam Ahmedu (rtd), President FIBA Zone 3, Mr Akin Ogunranti, General Manager (Group Zonal Head ikeja) Zenith Bank and Mr Babatunde Ogunade, Vice President of NBBF  at the press conference of the women basketball league 2018
Ogunranti said: "Over the last 13 years, Zenith Bank has sponsored the NBBF Women Basketball League, as our own contribution to the society and especially to youth development, which is the core of our Corporate Social Responsibility.
 "The partnership with NBBF has come a long way with just four teams in 2005, the league has expanded to 19 sides in this year competition, we are indeed delighted that our intervention is bringing result in the area of women youth developments.
 "Our sponsorship of the league has helped to raise the profile of female basketball in the country and contributed in no small measure in discovery of many talents.
 "Some of the players now play in different league across the world. Many of the players in the league also play for the national team, representing the country in youth and senior basketball league competition across the world."
 Speaking also at the occasion, the Vice President of the NBBF, Babs Ogunade, who represented the president, Musa Kida, said they are using the funds to support the teams and there won't be any prize money as they try as much as possible to protect the players.
 This year's abridged league will see a total of twenty-one teams competing for honours at three locations with the preliminaries holding from the Sunday, October 28 in Abuja and Enugu. The finals will hold at the National Stadium, Lagos in early November.