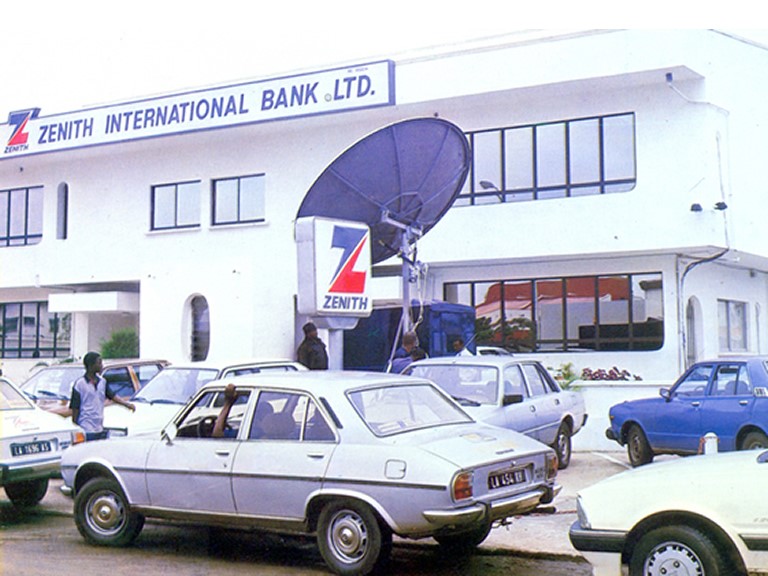 History of Zenith Bank
Zenith Bank was founded and incorporated by Mr. Jim Ovia, CFR, as a private limited liability company in May 1990 and commenced operations in July of the same year as a commercial bank.
From its humble beginnings of a single branch that started off on NGN20 million (US$4 million), Zenith Bank Plc is now Nigeria's largest and one of Africa's largest financial institutions by tier-1 capital, with shareholders' funds of NGN1.28 trillion (US$3.03 billion) and a total asset base of over NGN9.6 trillion (US$22.80 billion).
With more than 10,000 staff in its employment globally, the Bank presently operates from over 500 branches and business offices across all states of Nigeria, the Federal Capital Territory (FCT), Abuja, and its foreign subsidiaries in Ghana, Sierra Leone, Gambia and United Kingdom.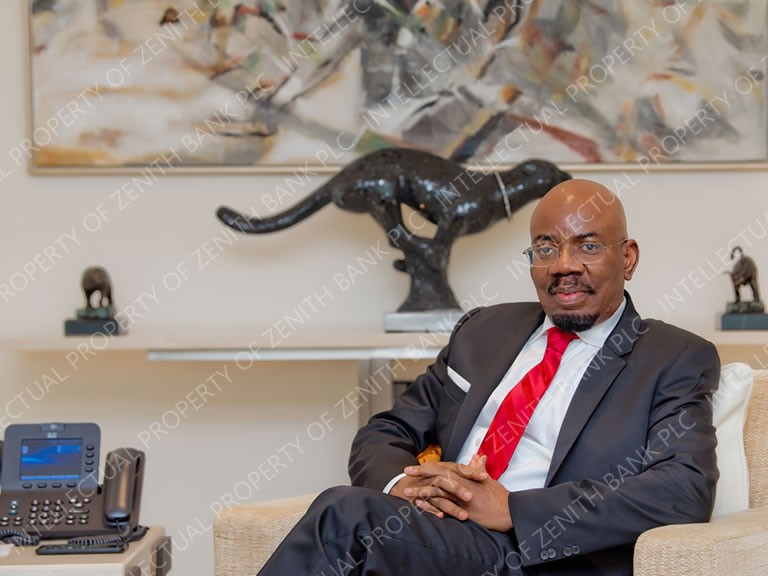 Journey into the World of Banking
Jim Ovia's journey into the world of banking began at the Oba Akran Way, Ikeja, Lagos branch of Barclays Bank DCO (now Union Bank) in 1973, where he worked for about two years as a banking clerk before moving to the United States of America for his undergraduate and postgraduate studies. During his senior year at the university, he got a night job as a computer operator at the Baton Rouge Bank and Trust, USA, where he had the opportunity of learning how the American Bank was using data processing technology to its advantage.
After receiving his Bachelor of Science degree in Business Administration from the Southern University of Louisiana in 1977 and an MBA from the University of Louisiana in Monroe in 1979, he returned to Nigeria to participate in the mandatory National Youth Service Corps (NYSC) program. In the last quarter of 1980, immediately after his NYSC program, he joined International Merchant Bank (IMB), a subsidiary of First National Bank of Chicago as a Financial Analyst. There, he rose meritoriously to the position of Senior Manager and from 1987 to 1990 led the Corporate Finance Department of Merchant Bank of Africa under the technical supervision of Bank of America.
His experiences at IMB, which were in the areas of financial and credit analysis, treasury management, developmental finance and trade finance, prepared him for the bigger things that lay ahead of him in the financial services industry. Following the collapse of crude oil prices in the early 1980s, Nigeria implemented a Structural Adjustment Program (SAP) in 1986, seeking to revive the economy by extending opportunities to the private sector by commercialising or privatising previously regulated industries, including banking. Like many Nigerians, he was intrigued with this opportunity that private investors were presented to be licensed to operate banks, so he decided to make an application to acquire a banking license.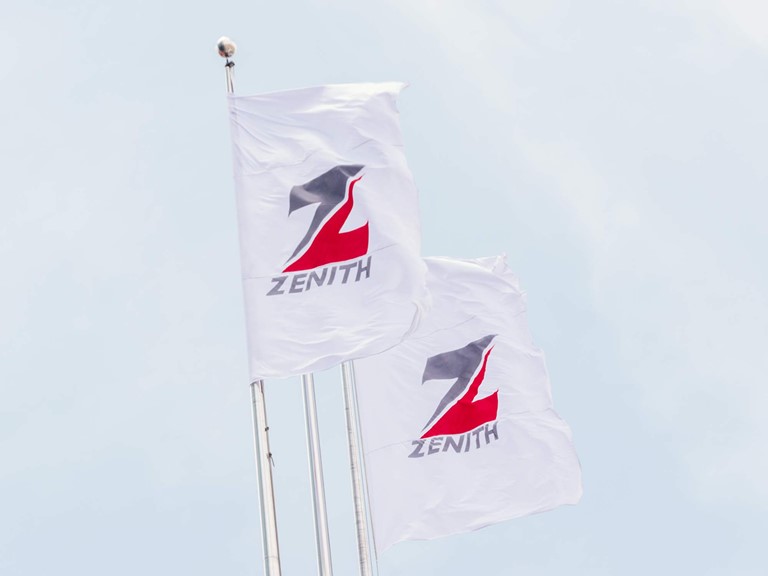 The Brand
Mr Ovia chose "Zenith" as the name of the Bank, a name he reckoned had not been used in the international and global market. In arriving at a decision, he was guided by his understanding of the core elements of successful branding, including simplicity, broad-based appeal, and uniqueness. Leveraging on his experience over the years, he was able to write the application for a banking license, including a detailed feasibility study of the proposed Zenith Bank. He put so much into delivering a high-quality application for a commercial banking license because of his strong view that whatever emanates from the company represents the company and the values of the founder. The licence for Zenith Bank to commence operation was issued on April 22, 1990.
With Mr. Ovia as pioneer Managing Director/CEO, Zenith Bank commenced business in a duplex at Ajose Adeogun Street, Victoria Island, Lagos, sharing the facility with another tenant who occupied the other side of the building. As time passed, the tenant moved elsewhere, allowing Zenith Bank to utilise the entire space. The new team learnt quickly, following Mr. Ovia's example of discipline, commitment and getting results under great pressure. The management team drew up a strategic plan to open up branches within a short time in each state capital, with a mandate for each branch to be established and open for business within three to six months.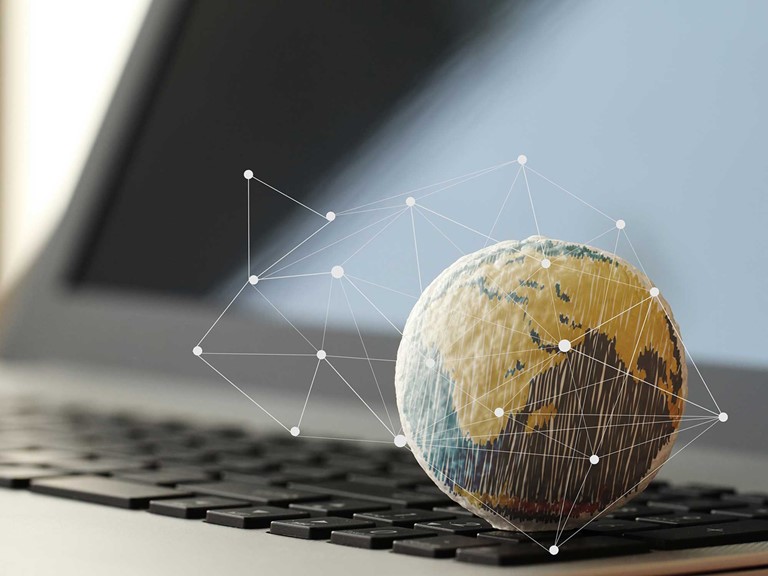 Integrating Digital Technologies
When Zenith Bank first opened its doors in 1990, there were no automated teller machines (ATMs) in Nigeria, no debit or credit cards, and no digital networks. In 1995, the need to integrate digital technologies in the business led Mr. Jim Ovia to establish Cyberspace, a network and ICT-service company.
Initially, he set up a VSAT (very small aperture terminal) satellite, but the military government of the day pulled it down because they were under the impression it could be used to spy on the country. This setback did not deter him from his digital banking ambitions though as he went ahead to use existing phone lines to network the Bank. After a couple of meetings with the Nigerian Telecommunications Limited (NITEL), Zenith Bank was allowed to install VSAT dishes on the top of its buildings, using them to connect branches. Consequently, Zenith Bank became the first bank to network its branches in Nigeria, a game-changer for the Bank and the industry. In 1997, Cyberspace acquired a new spectrum frequency from the Nigerian Communications Commission (NCC) which enabled it to transmit data within Nigeria wirelessly. With Zenith Bank now networked, the Bank was able to ensure that staff members have a connected personal computer or a handheld device. The bank began digitalizing many of its processes, making it easier for customers to transact in real-time.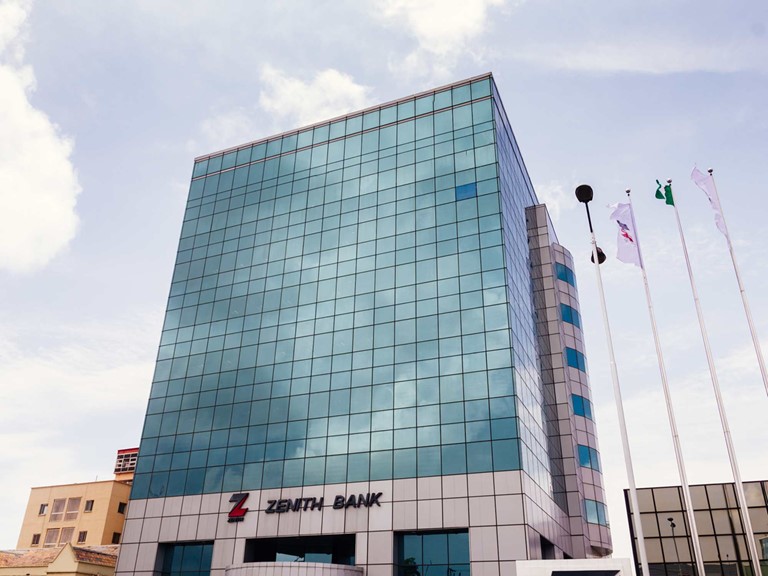 Financial Capacity
In 2004, the Central Bank of Nigeria (CBN) declared that banks had to be recapitalised with a minimum of NGN25 billion or be liquidated. Out of ninety banks in existence at the time, only twenty-five were able to raise the funds. While some banks merged or acquired others, Zenith Bank was one of only two banks that had no need to acquire or merge with any other financial institution. When the Bank announced an initial public offering (IPO), the public mood was extremely confident, and the demand for the Zenith Bank stock was so great that the IPO was over-subscribed. The Bank was able to raise NGN48 billion, although it could only keep just a third of that sum in accordance with the Stock Exchange rules. Following the highly successful IPO, the Bank became a public limited company on June 17, 2004, and was listed on the Nigerian Stock Exchange (NSE) on October 21, 2004.
In March 2007, Zenith Bank was licensed by the Financial Services Authority (FSA) of the United Kingdom to establish Zenith Bank (UK) Limited as the United Kingdom subsidiary of Zenith Bank Plc. The Bank has witnessed significant expansion in Africa and established the following subsidiaries: Zenith Bank (Ghana) Limited, Zenith Bank (Sierra Leone) Limited and Zenith Bank (Gambia) Limited. The Bank also has presence in the People's Republic of China and the United Arab Emirates. In 2013, the Bank listed $850 million worth of its shares at $6.80 each on the London Stock Exchange (LSE).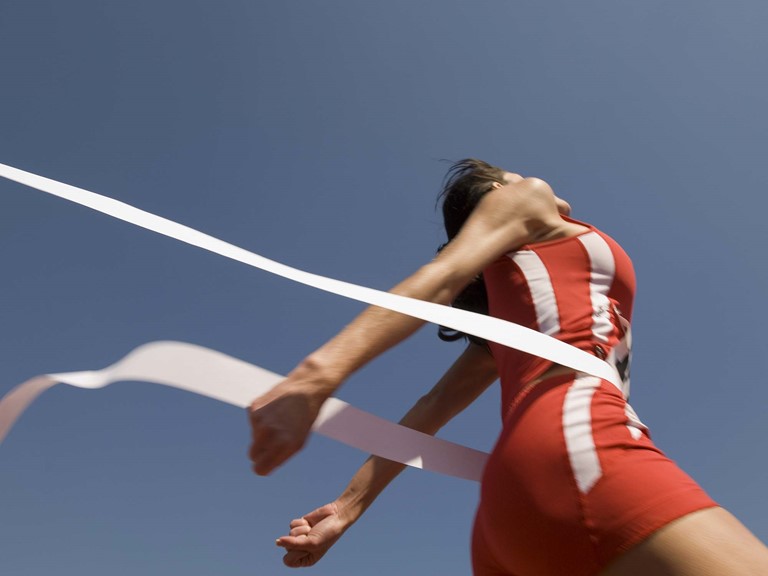 Superior Performance
Having been mentored by its founder and pioneer Group Managing Director/CEO, Mr Jim Ovia, CON, successive leaders of the bank drew upon its superior personnel, excellent service culture and continuous deployment of state-of-the-art technology to keep the institution at the forefront of Nigeria's banking industry. Like Mr. Ovia, a robust risk management framework and rare determination to break and surpass records were the impetus for the successes achieved by Mr. Godwin Emefiele, Mr. Peter Amangbo and now, Mr. Ebenezer Onyeagwu as Group Managing Director/ CEO of the Bank. The seamless leadership transition at the Bank is clear evidence of a well-planned institution and is consistent with the Bank's tradition and succession strategy of grooming leaders from within.
Zenith Bank has continued to distinguish itself in the Nigerian financial services industry through superior service quality, unique customer experience and sound financial indices. With a team of dedicated and well-trained professionals, the Bank leverages its robust Information and Communication Technology (ICT) infrastructure to provide a broad range of products and services. In addition, the Bank is a leader in lending to key segments of the Nigerian economy, facilitating job creation and economic growth.
Zenith Bank's impressive growth pattern and performances over the years have earned the Bank excellent ratings, recognitions and endorsements from local and international agencies and institutions. Some of the notable ones include Bank of the Year (Nigeria) 2005, 2013, and 2020 (The Banker Magazine), Best Commercial Bank 2015 (International Finance Magazine), Biggest Bank in Nigeria by tier-1 capital 2013, 2014, 2015, 2019, 2020, and 2021 (The Banker Magazine) and Best Corporate Governance 'Financial Services' Africa 2018, 2020, 2021 (Ethical Boardroom).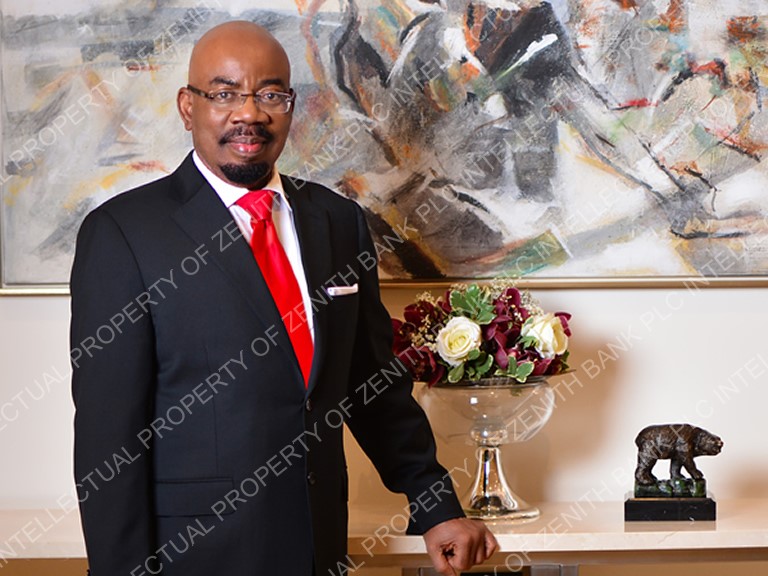 The Passion of Jim Ovia
In recognition of his achievements, particularly in support of the Nigerian economy, Mr. Ovia was conferred with the national award of Member of the Order of the Federal Republic (MFR) in November 2000 and the national award of Commander of the Order of the Niger (CON) in November 2011. He had previously received the Zik Award for Professional Leadership in April 1999. He is also a recipient of the Africa-America Institute's (AAI) African Business Leader Award (2018) and the Delta State Government Lifetime Achievement Icon Award in Banking and Finance (2021). Mr. Ovia is a member of the World Economic Forum Community of Chairpersons and a champion of the Forum's EDISON Alliance.
As a testament to his immense accomplishments in the area of education, the Lagos State University conferred on him an honorary Doctorate of Science Degree in Finance in 2005. In December 2017, he was awarded an honorary Doctorate Degree in Business Administration by the University of Nigeria, Nsukka, for his outstanding contributions to the development of the country. More recently, in April 2019, he was awarded an honorary Doctorate Degree by the University of Lagos at the institution's 50th convocation ceremony.
Jim Ovia is passionate about seeing Nigeria achieve its economic potential, and he is keen on bringing his banking experience to bear the country's economic and investment policies. He was a member of the National Economic Management Team of Nigeria and the Honorary International Investors' Council. He played a profound leadership role as the first President of the Nigeria Internet Group (2001-2003), was a member of the Core Group of the Heart of Africa and currently serves on the boards of several organisations.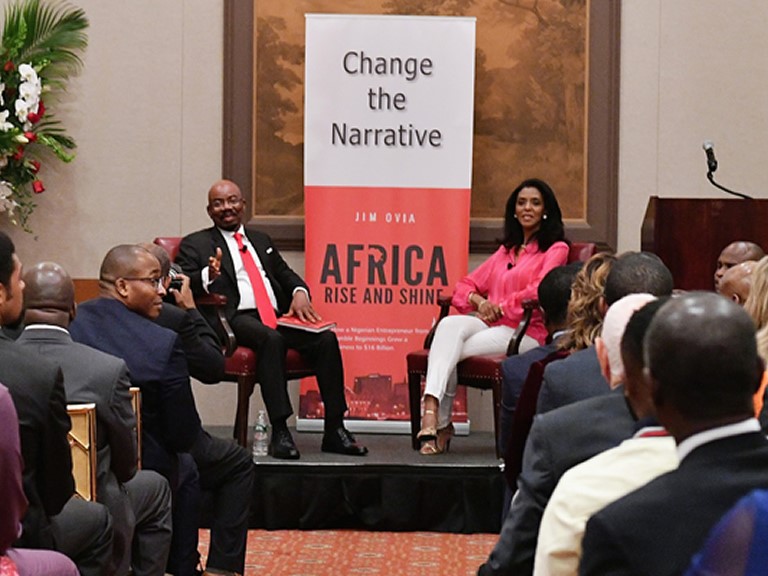 Africa Rise and Shine
Jim Ovia is a writer and motivational speaker. His bestselling book "Africa Rise and Shine", published by ForbesBooks, highlights how he founded and took Zenith Bank from humble beginnings to the global brand it is today. The book, which encapsulates Zenith Bank's meteoric rise, details the secrets of success in doing business in Africa. "Africa Rise and Shine" outlines the tough but necessary business decisions that were essential to Zenith Bank's continuous success and is filled with valuable takeaways for every aspiring entrepreneur.