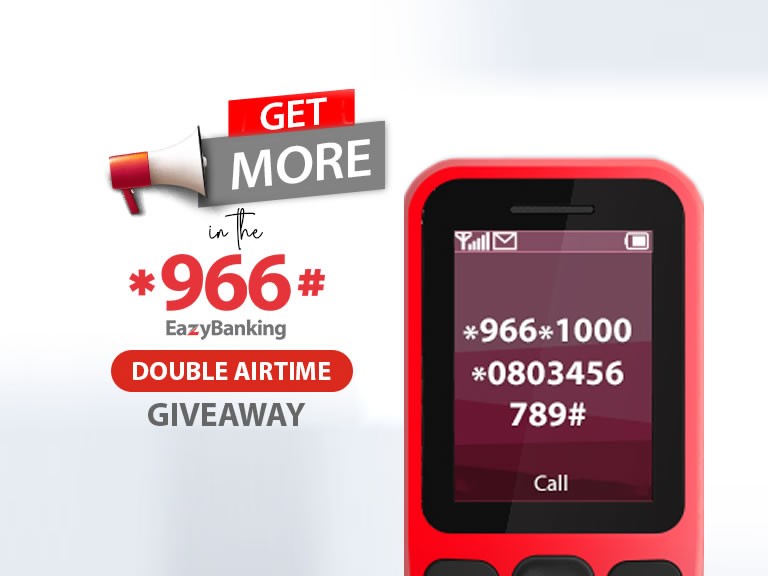 *966# Double Airtime Giveaway
To participate, just dial *966*amount*mobilenumber# from your mobile number registered with the bank. The first 966 people to buy airtime worth N500 and above with *966# EazyBanking on weekdays between 9am & 6pm and 9pm & 6am from August 1 to September 30, 2021 will get double their recharge amount (the reward is capped at N1,000).

If you don't have a Zenith Bank account but want to participate in the *966# Double Airtime Giveaway, just dial *966*0# to open one instantly and visit a Zenith Bank branch to complete the account opening.
1. What is the proposed reward amount?
All customers (new and existing) who buy airtime worth N500 and above on Zenith's USSD (*966#) would be rewarded with double the amount of purchase capped at N1000.
2. Customer Eligibility
Both New and Existing  Zenith Bank customers are eligible to participate in the promo.
3. Number of customers to be rewarded on a weekly basis
9660 customers would be rewarded weekly.
4. Promo Duration
The promo will commence on Sunday 1st August 2021 and end Thursday 30th September 2021.
5. Time of the Day/ Week of the promo
The promo time is 9am – 6pm and 9pm - 6am weekdays (Mondays to Friday).
6. The number of wins allowed for each customer
Customers are eligible to win twice throughout the duration of the promo - Eligibility is once in each month (once in August and once in September).
FAQ
Frequently asked questions on *966# USSD for EazyBanking
User Guide
Step by Step Guide on *966# EazyBanking